How to switch a business online?
Have you embarked on new business challenges and decided to position yourself online?
The steps to get to your goal the fastest are described below and almost all of them are completely free if you do them yourself (except creating a website), but they require you to set aside your time.
Facebook
Facebook is still considered the most popular social network, so it is best to start from it.
For each company, business or other type of business account, be sure to create a page. The fact is that it is easier to build a network through a private profile, but companies that have profiles rather than sites look unprofessional. An important point when creating a page is that you need to have a private profile to build a business page through it. You decide whether you want to create a new profile, then build a page or over your existing already active profile.
Link to create a page: https://www.facebook.com/pages/create/ . It is important that you choose the right industry in which you work and that you fill in the data to the maximum, put photos and make a real small shop window of your company.
And what now? You don't have a single companion, I know. But start building a network slowly. You can pay to promote the site, but there are also free ways – e.g. to invite your FB friends to start following your page. If FB only allows you the option to click one by one, feel free to send me an email or message to help you tag everything at once 😊.
LinkedIn
It may not be for all industries, but I almost always recommend it because it provides many opportunities to connect with a large number of business users. If you sell bread and have a bakery, LinkedIn is hardly overly interesting to you except locally. If your potential customers are companies or small businesses, be sure to use this social network to connect with valuable business contacts.
Instagram
Sometimes underestimated in our society with the argument that there are only young people there, ask yourself if these young people are your target group. And what does "young" mean? People in their 30s? All these young people are active and real customers.
If you are the owner of a company that has products exclusively for retirees, I think you are also interested in Instagram because these same retirees have their children asking for advice on shopping or their children are shopping. What means that if they know your brand, they will buy it (because they know nothing about the product anyway, they just know they saw a logo or product somewhere and will process it as relevant in the selection).
Keep in mind that Instagram is great for sharing visual content that needs to be created with quality. The more short videos or animations and your profile will become more important over time.
Youtube
If creating a video is part of your digital strategy, don't forget to create your own Youtube business channel. You can upload educational video content, create a video blog or promote the video on other social networks.
Web page
It is certainly desirable, but sometimes financially unavailable in some situations of beginnings. Judging by my own example – when I founded it, I wanted a website, but the offers didn't suit me, so I rolled up my sleeves and made it myself 😊. There are various variants, but all take either time or money. And sometimes both 😉.
Google My Business
A great free tool option that allows your local business to show up in searches in e.g. Google Maps or Google Search. Google My Business helps users find you. In addition, reviews that users actually read and check the company's reputation are a great option.
Here's what it looks like in the live version: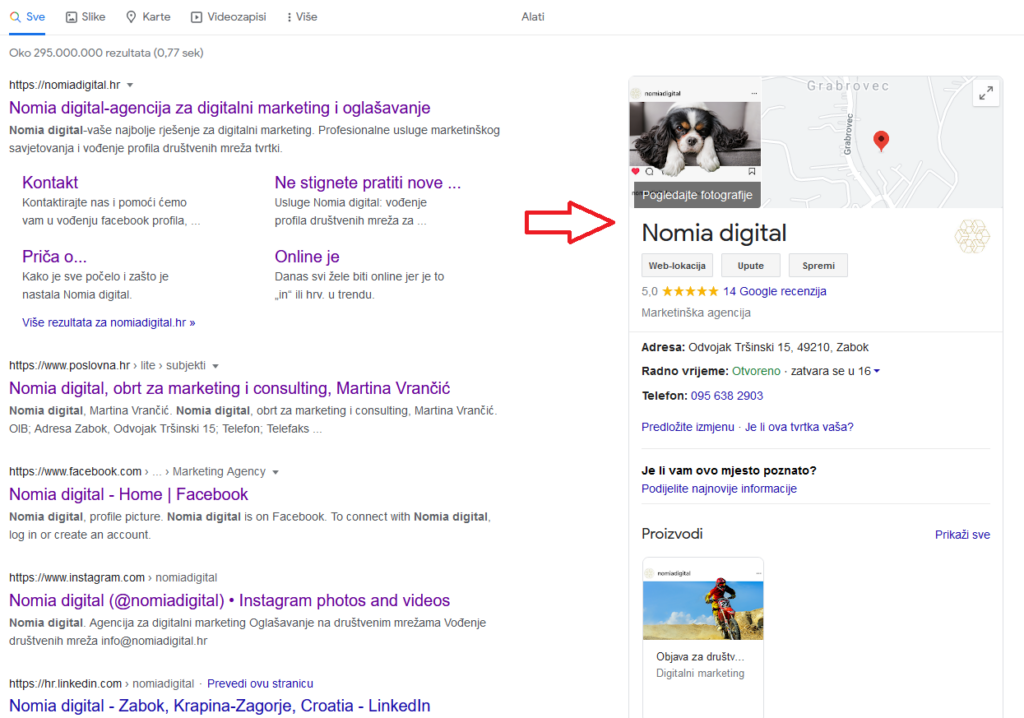 Measure and analyze data
It's not enough to just make pages and gather followers. It is important that you publish valuable and usable content and keep track of what happens next. The unpopular term "statistics" comes into force here. Analyze, change the strategy as needed and let the statistics be your support, because based on statistical data you see what you did well, or what you have a reaction to, and which did not lead to results.
Create a content calendar
Sounds boring, yes. But it is very important. Because that way you have control over the content you publish and you will have fewer and fewer, if nothing, "ad hoc" publications that can sometimes be of questionable quality.
Rather sit back and invest a few hours, create posts, make a plan, write texts and take care of publishing. You can also use various automation tools (eg Later, Hubspot, etc.). But there is always a "but". From my own experience, the tool is very user friendly, but at the time when I needed to post more posts and started analyzing, I realized that Facebook treats posts from Latera differently than directly from the platform, ie it gives more importance to its own, which is logical.
But there is a trick here too. Use Facebook Business Suite or Facebook Creator Studio – they are great tools with great statistics. So whoever likes, let them love 😉 I..don't forget to connect Instagram and Facebook accounts for easier and faster publishing.
I'm sure this is too much information for you to start your company's digital business.
Well, for details, questions or just advice, feel free to write to info@nomiadigital.hr.
Martina
(Bear in mind that I'm just one message away 😉 )